I think we've all seen the 'synapses with partner' button in the lightbulb, and if im not mistaken @Amy_R_Sterling has said we (players not researchers/admins) can use it, and I would like to but I don't want to make a mistake so I have a couple of questions:
Sign in - Google Accounts in this link what is the cleft score threshold? By default it is at 50, is that something I/we should know to adjust based on 'parameters' or just always leave it at 50?

How important is adding the date and time? I mean its not difficult or anything and UTC is just -2 hrs from my timezone, -1 hour from central/western europe time, just curious if its mandatory or do it if u dont mind.

What do synapses look like? I mean i know the easier ones, the bouton wrapping on bouton/nub, like this:

But im not quite sure when i see a bouton wrapping itself around a branch or 2 nubs touching if those -also- constitute a synapse or not, like this: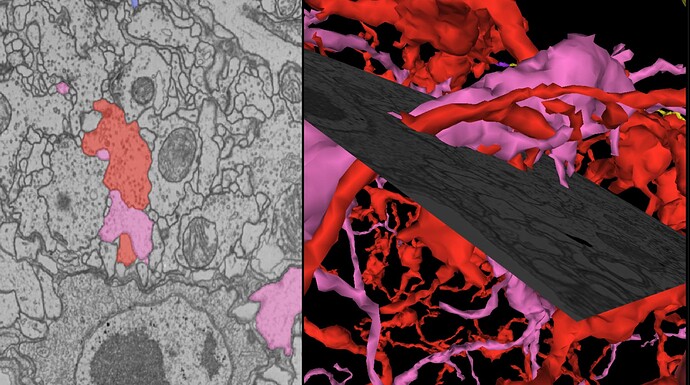 (the small pink circle surrounded by the red on 3 sides).
I would like to contribute and help submit synapses but i'm afraid of submitting the wrong thing(s) as synapses, I've submitted 2-3 very easy (like the 1st image above), but perhaps other players and/or admin(s) can give various different examples of synapses (screenshots) here so that any player who wants to submit synapsing partners can.
Finally, perhaps this should be a thread/topic of its own but what do all the things mean in the connectivity option in the lightbulb? Sign in - Google Accounts
There's a lot of info in there and it all looks very interesting but ofc I haven't the slightest clue what any of it means, if an admin doesn't mind spending 5 mins to explain the basics i'd greatly appreciate it.