Had a thought of what if we can extrapolate/derive a 'shape' or area/region of how big/small is the 'black spill' area where we have the CB-less Cells. So, I retrieved the segment IDs from the q/a sheet and pasted them all in one link.
https://ngl.flywire.ai/?json_url=https://globalv1.flywire-daf.com/nglstate/6361878217359360
The annotation lines are just an indication, ofc i cant know if and how many more cells 'outside' of the annotated shape there might exist, so its more of a 'current' shape. I'm hoping that the more cells we are given to map the more cells we'll find near/in/out of that area where the existing cells are which might give us a clearer understanding of the actual portion of the dataset that is within the 'black spill' area.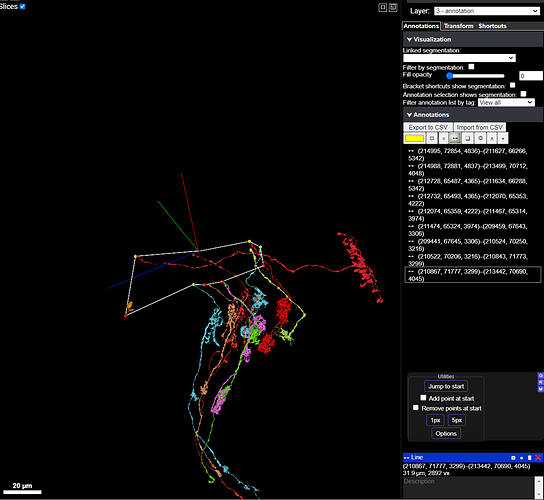 Needless to say that if anyone wants to contribute and add cells and/or modify the annotation lines feel free, just plz share updated link here.
Final note as you'll see ive not annotated all cells, just the ones on the outer parts to create a 'shape'.
Who knows maybe as more data points (cells) are added we might also be able to find CBs for these guys.